Giulia Quadrifoglio
Unmistakably Alfa Romeo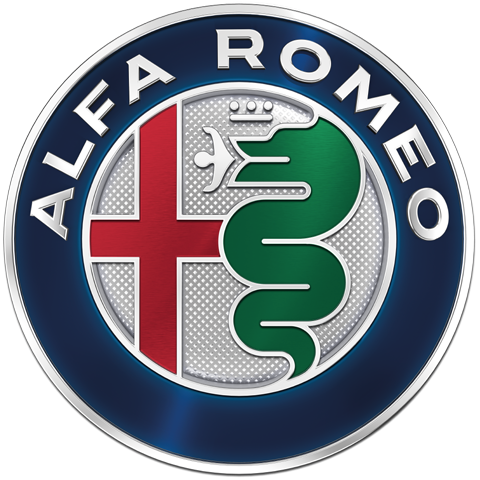 Giulia Quadrifoglio

MSRP starting at $159,990 +ORC
Giulia Quadrifoglio

MSRP starting at $159,990 +ORC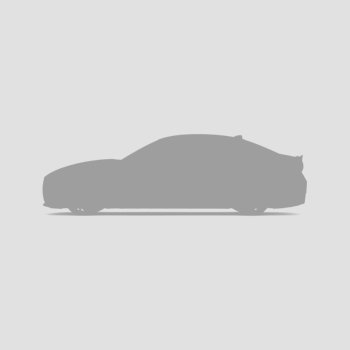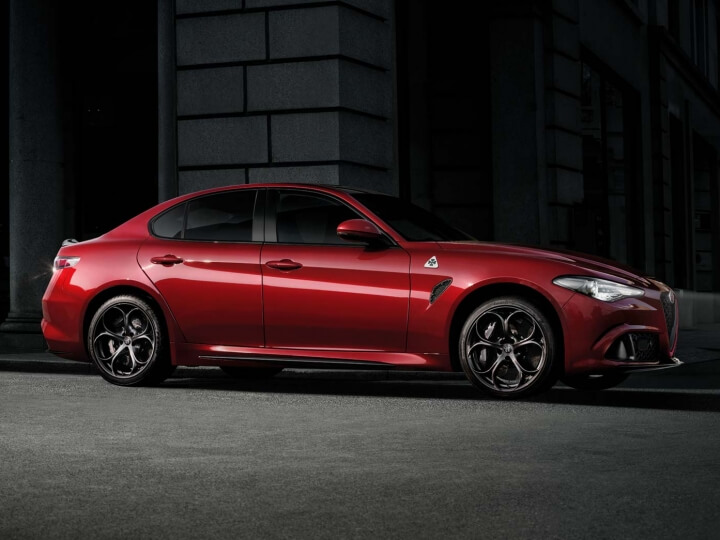 Overview
FEEL THE SPIRIT
For over a century, Alfa Romeo has inspired greatness on and off the track. With a nod to its racing heritage, the Giulia Quadrifoglio represents a new breed of premium sport sedan that knows how to redefine the rules of the game.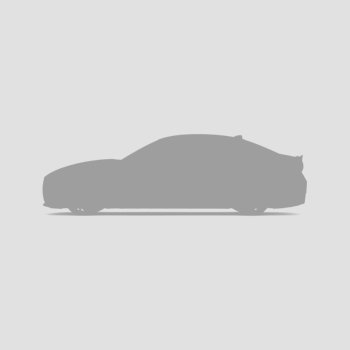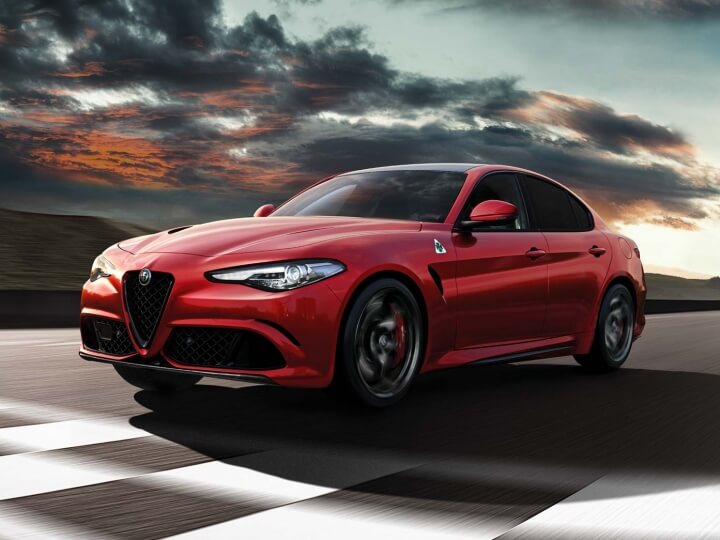 CONQUER THE ROAD
The New Giulia Quadrifoglio delivers confidence-backed performance thanks to advanced rear-wheel-drive technology that offers more grip during acceleration and better handling at high speeds.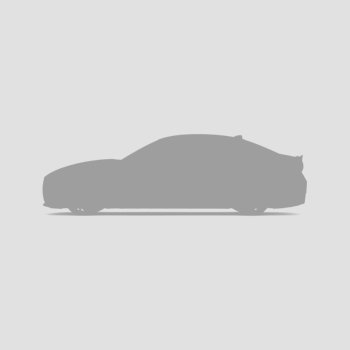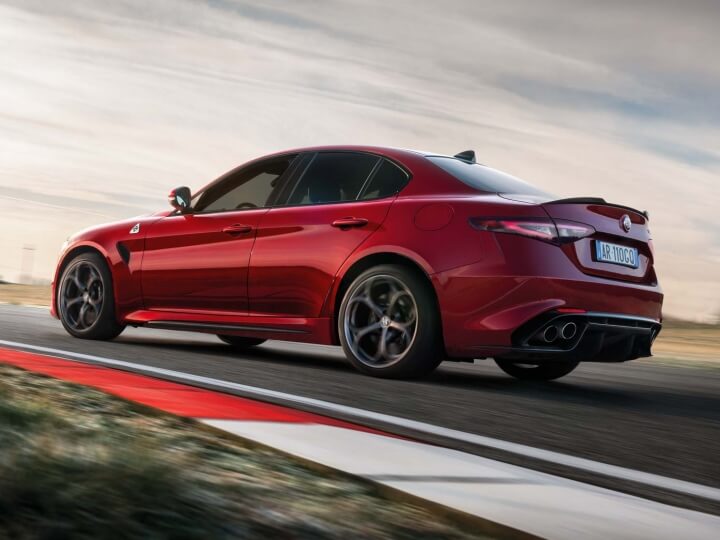 LIGHTWEIGHT EFFICIENCY
The near-perfect balance and calculated combination of ultralight materials–including carbon fiber, aluminum and high-strength composite materials–help this Italian sport sedan achieve Best-In-Class horsepower and torque.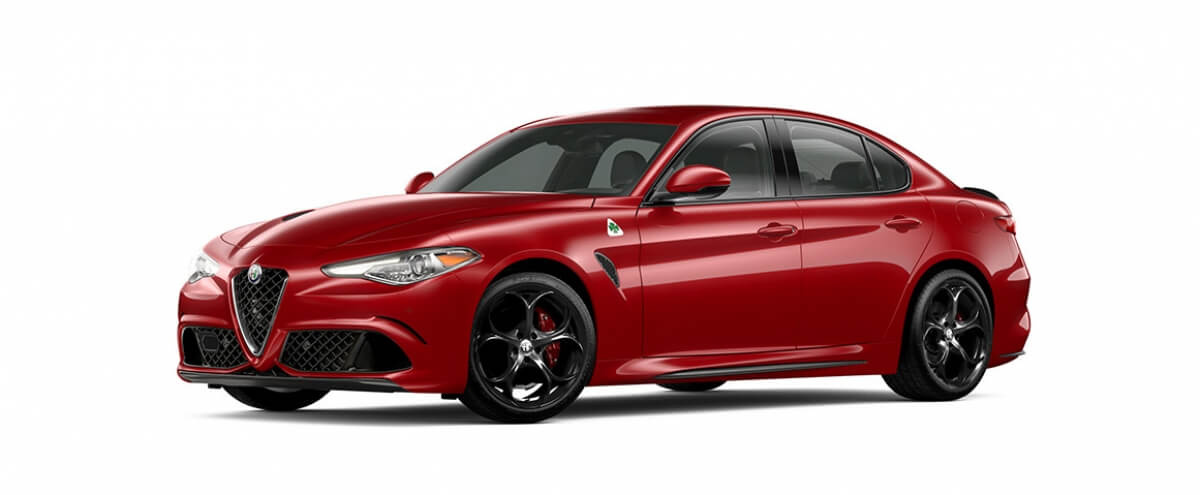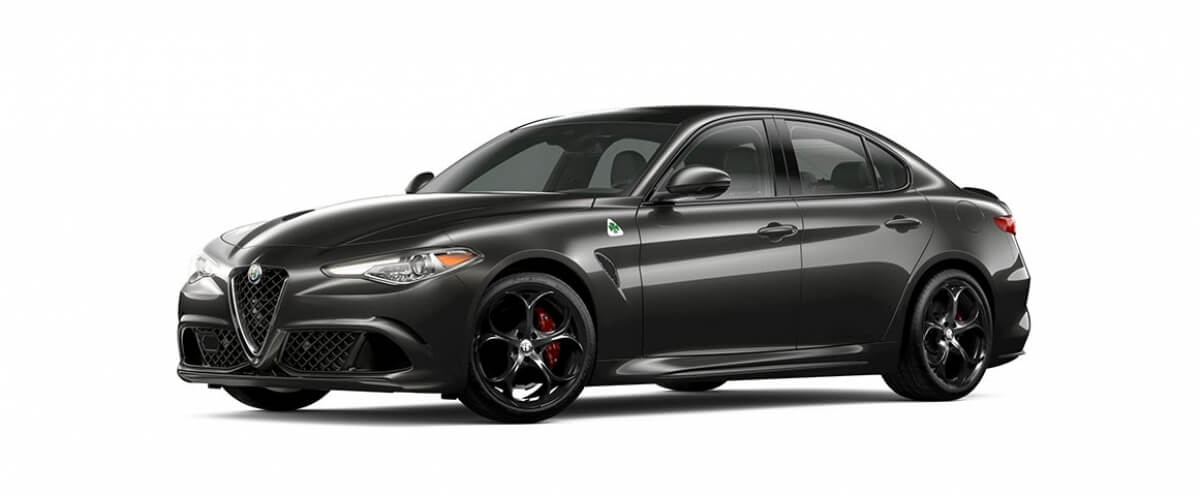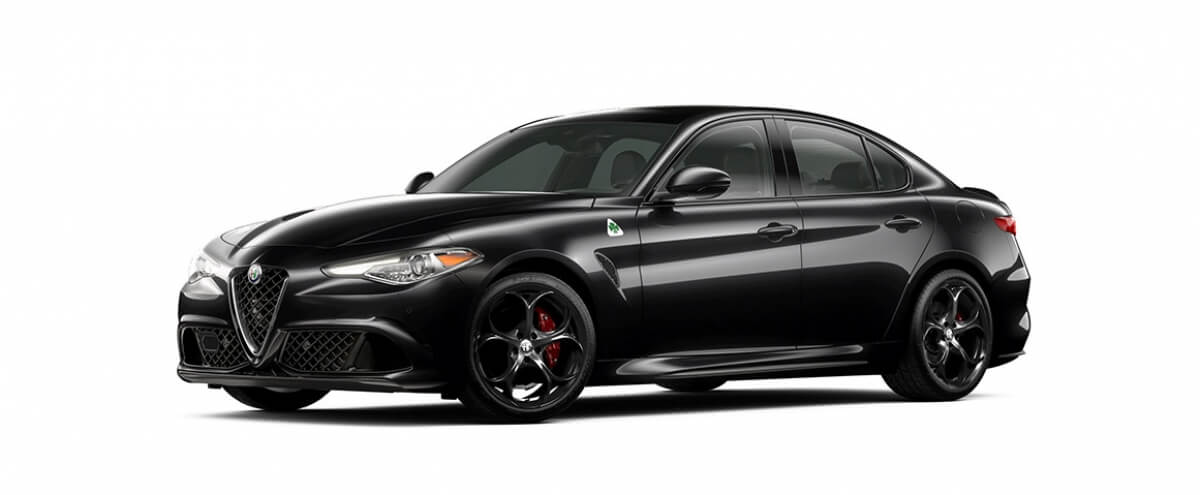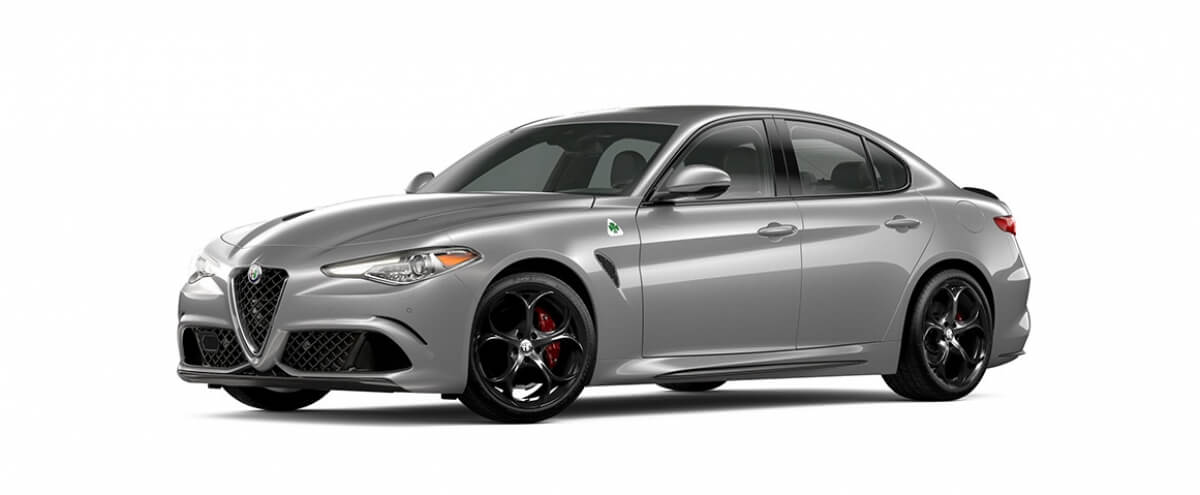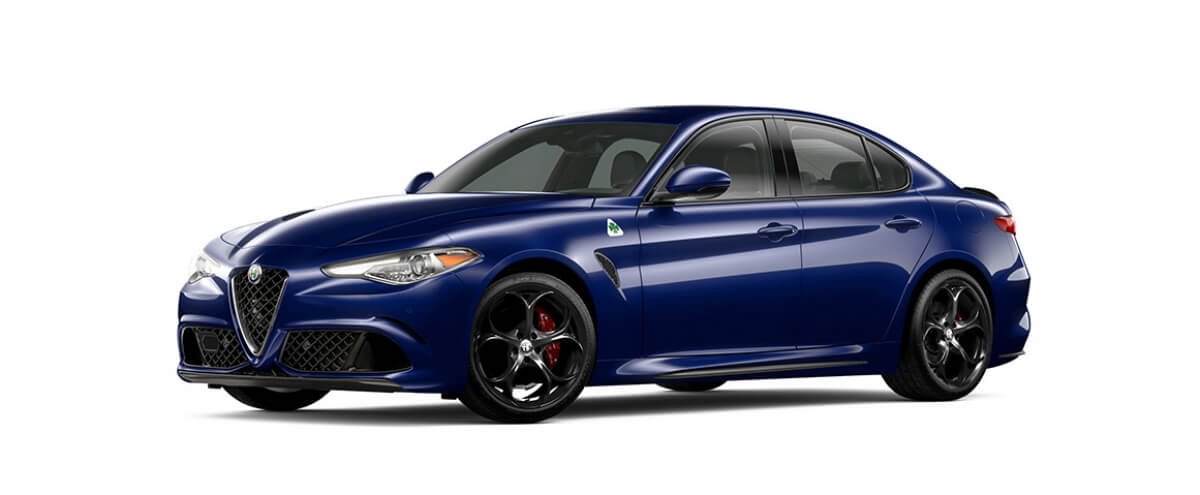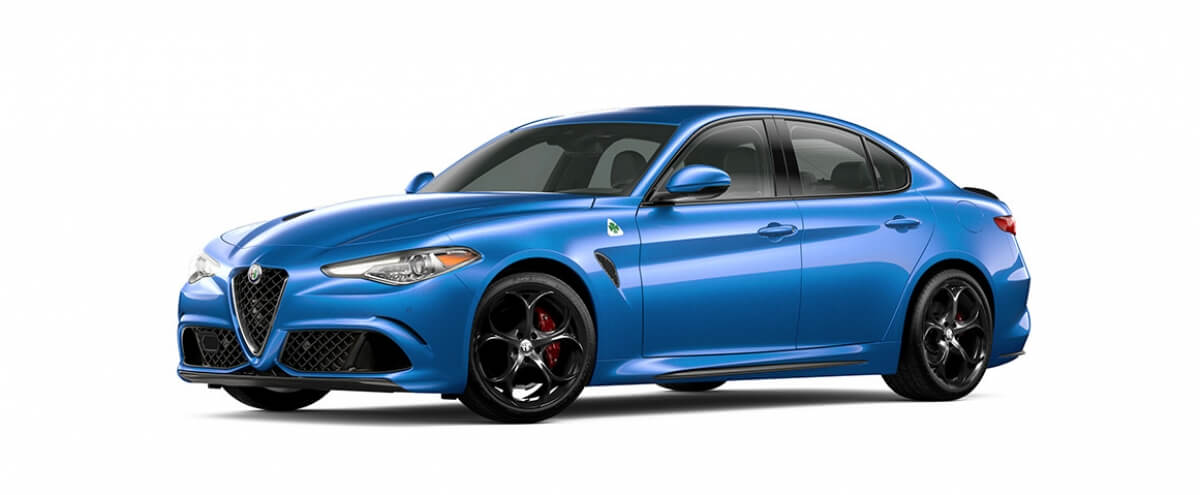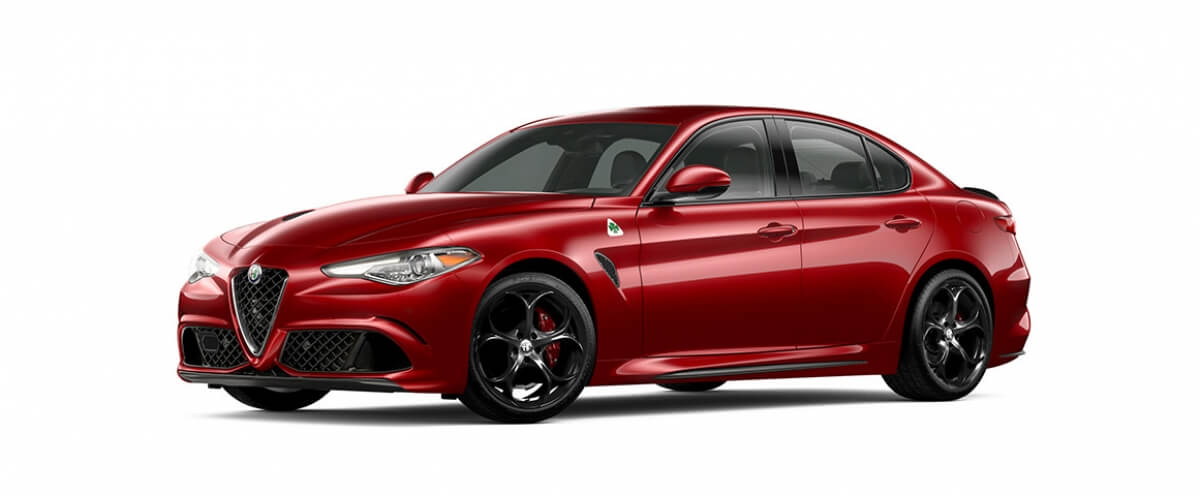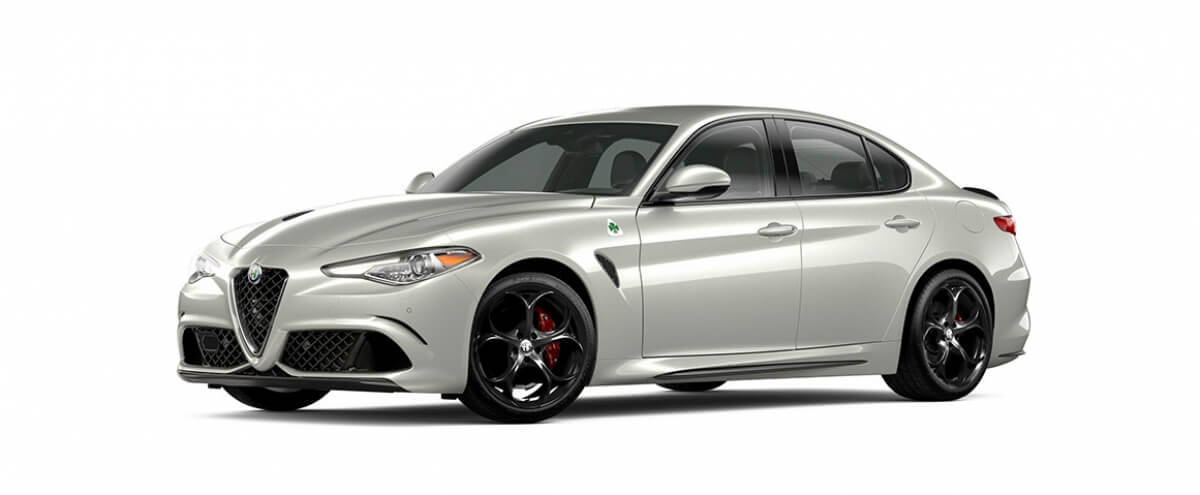 Alfa Red
Vesuvio Grey
Vulcano Black
Silverstone Grey
Montecarlo Blue
Misano Blue
Competizione Red
Trofeo White
Giulia Quadrifoglio
• 19-Inch Forged Alloy
• Carbon Fibre Alfa™ Active Aero Splitter
• Monza Exhaust with Quad Tips
• Carbon Fibre Bonnet, Roof, Side Skirts and Rear Spoiler
• Brembo Cross Drilled Brake Rotors with 6 piston front and 4 piston rear calipers
• Leather and Alcantara Upholstered Seats
• Quadrifoglio Leather and Alcantara Steering Wheel with Red Starter Button
• Heated front and rear seats
• Alfa DNA™ Pro
• Alfa™ Active Suspension
• Front & Rear Parking Sensors
• Active Cruise Control, Lane Keep Assist and Active Blind Spot Assist
• Automatic High beam System
• Wireless Charging Pad
• 8.8-Inch Colour Display Multitouch with Navigation
ADVANCED LUXURY
True to its roots, the Giulia Quadrifoglio is fitted with all the features that define a high-performance sport sedan.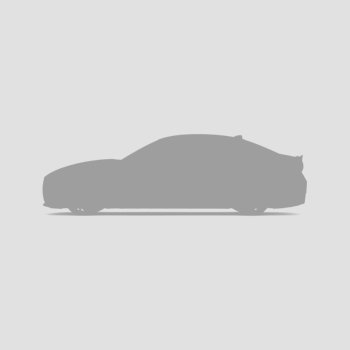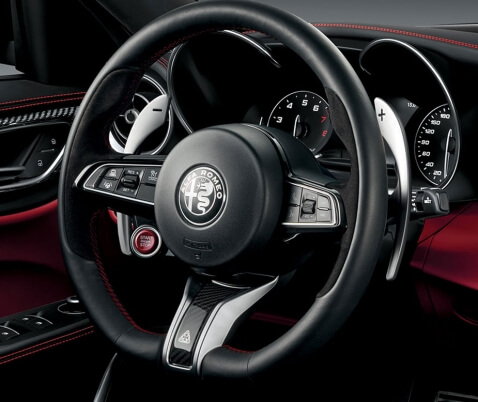 STEERING COLUMN-MOUNTED ALUMINUM PADDLE SHIFTERS
Manually shift your automatic transmission for better performance without ever taking your hands off the wheel.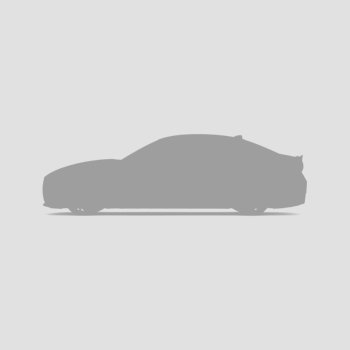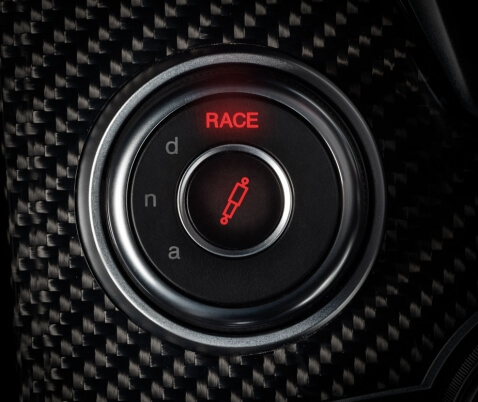 ALFA DNA
The Alfa DNA™ Driving Mode Selector, thanks to the interaction with the Alfa™ Chassis Domain Control (CDC), instantaneously adapts the car behaviour to the selected driving mode.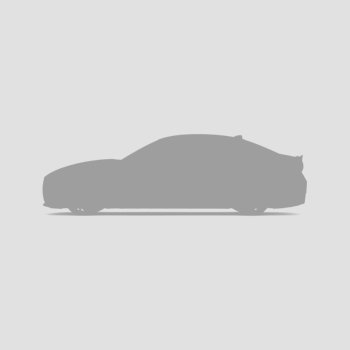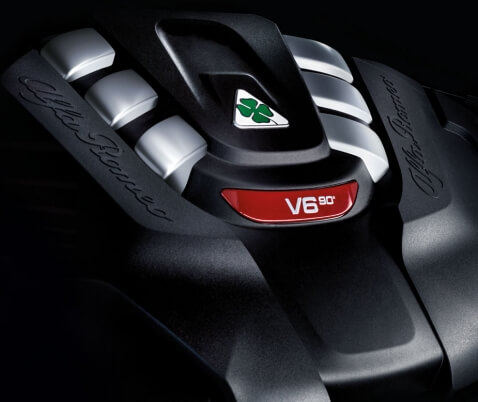 ALUMINUM 2.9L BI-TURBOCHARGED V6 ENGINE
Power is on full display with the all-aluminum 2.9L Bi-Turbocharged V6 engine that delivers Best-in-Class 375 kW horsepower and 600 Nm of torque, going from 0-100 km/h in 3.9s.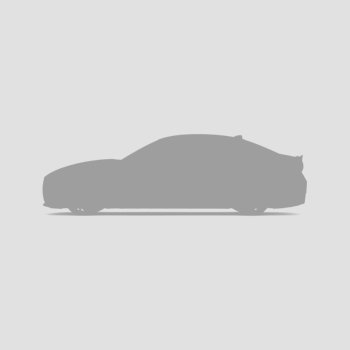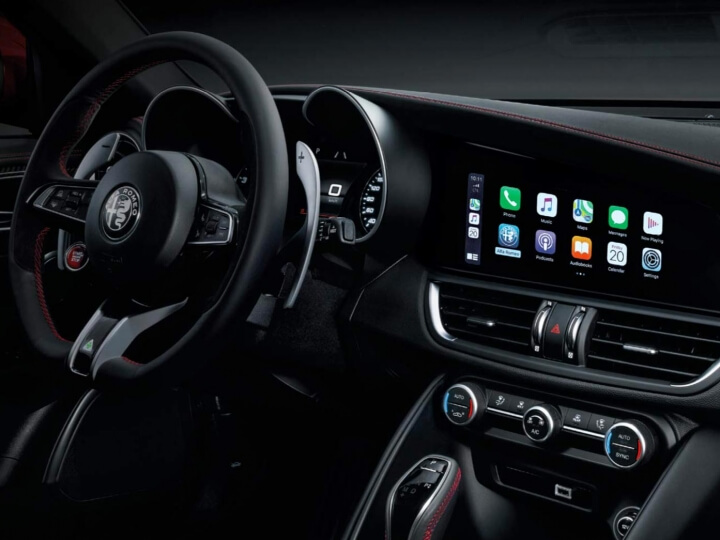 MUSIC AT YOUR FINGERTIPS
The Alfa Romeo Giulia Quadrifoglio comes with an 8.8" Colour Display Multitouch with Integrated Steering Wheel Controls let's you access your information quickly, safely and easily.
Providing both Apple CarPlay® for iPhone and Android Auto™ for Android devices, makes it even simpler and safer to have direct access to music, contacts, maps and compatible apps on your smartphone.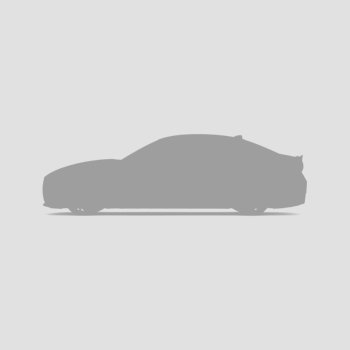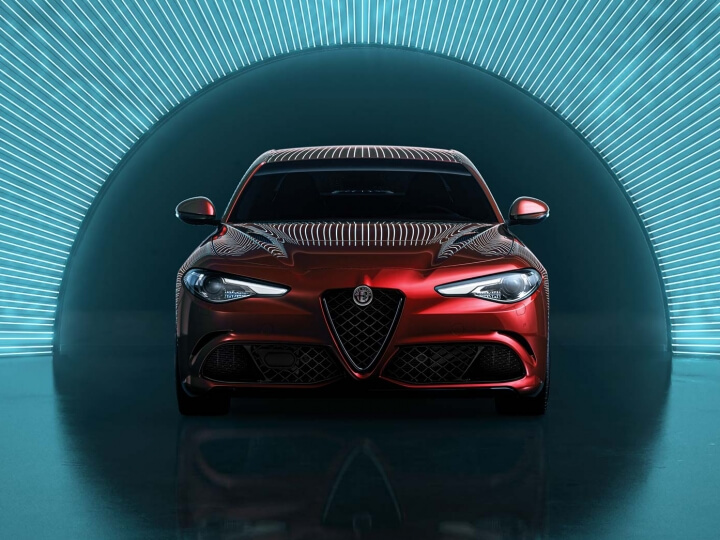 DRIVING AT THE SPEED OF MIND
The safety and security systems on Giulia Quadrifoglio represent how invaluable technology is when it comes to a more intuitive driving experience. Alfa Romeo has reached another level of driving pleasure with the second level of autonomous driving.
Equipped with innovative safety and security features, the Alfa Romeo Giulia Quadrifoglio leverages advanced driver-assist features such as, Active Cruise Control, Lane Keep Assist and Active Blind Spot Assist, that increase the feeling of vehicle responsiveness and control.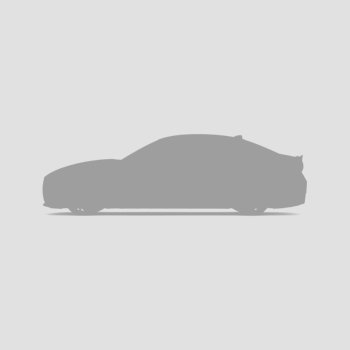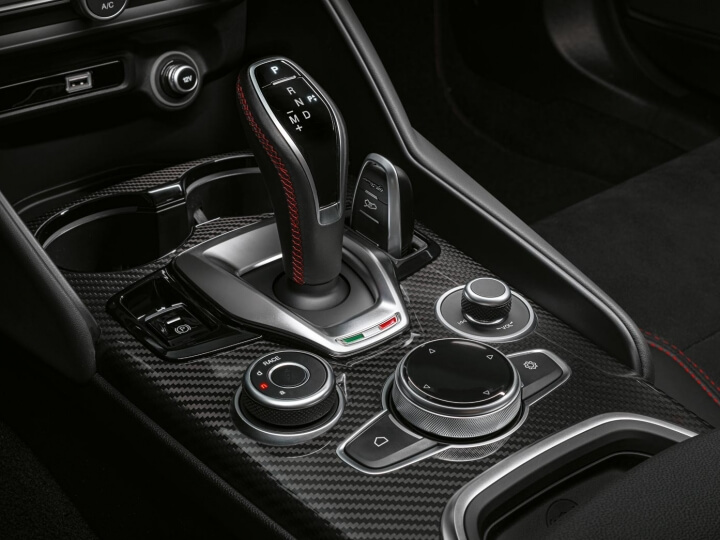 WHERE POLISH MEETS POISE
A body in high-strength steel, fenders and doors in aluminium, a Carbon Fibre Bonnet, Side Skirts, Roof and Rear Spoiler, available Front Seat Frames and aerodynamic appendices work in conjunction with the patented all-aluminium suspension to create a near perfect balance.
Gallery