ALFA ROMEO ANNOUNCES STELVIO RANGE FOR NEW ZEALAND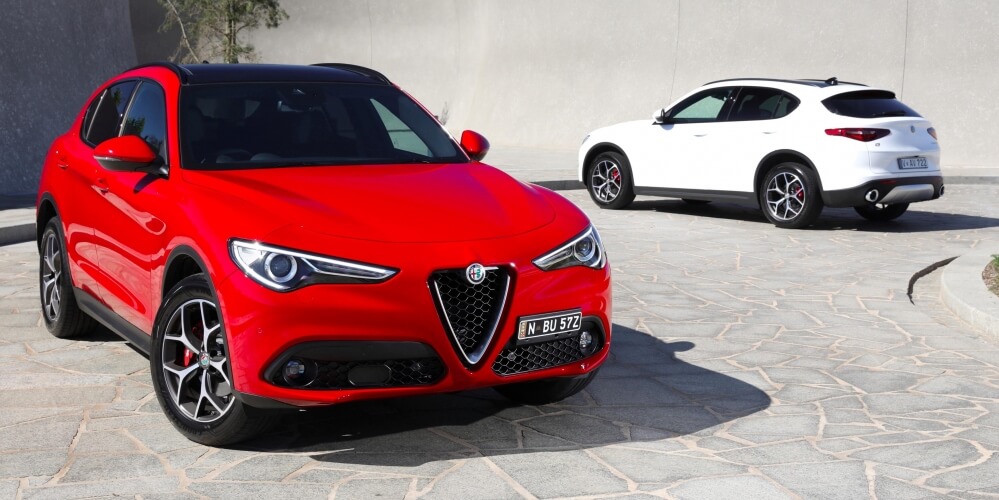 30 May 2018
ALFA ROMEO ANNOUNCES STELVIO RANGE FOR NEW ZEALAND
The all-new Alfa Romeo Stelvio is on sale in New Zealand from 1 June bringing world-class performance, state-of-the-art technologies, seductive Italian flair and an exhilarating driving experience to the premium mid-size SUV segment for the first time.
"The Stelvio seamlessly blends everything the Alfa Romeo brand stands for; style, passion and exhilaration and adds the versatility of a state of the art SUV to provide a vehicle that is uniquely suitable for New Zealand, be it urban driving, exploring our wonderful country roads or going off road on the ultimate adventure," says David Smitherman CEO of New Zealand's Alfa Romeo distributor.
"The premium mid-size SUV segment in New Zealand is forecast to grow and the introduction of the Stelvio now enables Alfa Romeo further expansion of the brand," says Mr Smitherman. "Stelvio opens the door to customers who may not have considered an Alfa Romeo in the past due to the demands of a family or business life – the Stelvio meets these demands while still providing the uniquely Alfa Romeo dynamic driving experience."
Aimed firmly at disrupting the premium end of the mid-size SUV segment, the Stelvio delivers a inimitable and distinct proposition when compared to its European and Japanese rivals.
"The Stelvio provides a genuine, exciting and unique alternative in this area of the market and the models we have selected for New Zealand provides the perfect choice for local buyers," Mr Smitherman adds.
Brought to life by Alfa Romeo craftsmen at Cassino in Italy, the 2018 Stelvio is a testament to Alfa Romeo's perfect balance of engineering and emotion – creating a premium mid-size SUV for driving enthusiasts that stands out in one of the largest and fastest growing segments in New Zealand.
The Alfa Romeo Stelvio arrives in New Zealand with a choice of three engines, a 148 kW Turbo petrol and 154 kW Turbo Diesel in the Stelvio, while Stelvio Ti gains a 206 kW Turbo petrol engine as well as an enhance performance equipment and technology package. All have an eight-speed automatic gearbox driving a sophisticated full time four wheel drive system.
The Alfa Romeo Stelvio is priced at $82,990 in Turbo Petrol form, while the Turbo Diesel is priced at $84,990 with the Stelvio Ti pitching into the market at $99,990 plus on road costs with all Stelvio prices including a free service plan for three years/45,000 km for the petrol versions and three years/60,000 km for the Turbo Diesel.
Alfa Romeo Stelvio: Performance personified
With near perfect 50/50 weight distribution, segment-leading torsional rigidity and the most direct steering ratio in the segment, the Stelvio also attributes its dynamic driving performance to Alfa Romeo's Q4 all-wheel-drive technology.
Off particular note is the class-leading light weight of the Alfa Romeo Stelvio. As a sport car maker, Alfa Romeo knows the importance weight has on handling and road holding, as well as performance, fuel economy and emissions. Hence, at 1660 kg, the Alfa Romeo is lightest car in its class, but at the same time rigidity, strength and safety have not been compromised, a clear indication of the level of expertise and engineering built into every Stelvio.
Designed for real-time traction management to ensure top-level performance, efficiency and safety, the Q4 all-wheel drive system guarantees the safety advantages of all-wheel drive with the driving pleasure of a rear-wheel drive car.
The architecture includes an active transfer case and front differential designed to meet the specific technical requirements of Alfa Romeo, entailing the rapid-response management of high torque levels, with a compact, lightweight set-up. It continuously monitors numerous parameters to optimise torque distribution across the two axles according to driver input and how much grip there is beneath the wheels.
In normal grip conditions, the Q4 all-wheel drive system acts like a rear-drive car, with all the torque sent to the rear axle to provide a true sports car handling response. As the wheels approach their grip limit, the system can transfer up to 50 per cent of the torque to the front axle. This translates into best-in-class control in terms of traction and directional stability on corners.
For further driver customisation and input, the Stelvio offers the innovative Alfa DNA Drive Mode Selector, which modifies the dynamic behaviour of the vehicle according to the driver's selection:
· Dynamic: Delivers sharper brake and steering feel with more aggressive engine, transmission and throttle tip-in calibrations
· Natural: Comfort setting for balanced daily driving
· Advanced Efficiency: Eco-friendly mode to achieve the lowest fuel consumption
The Alfa Romeo Stelvio arrives in New Zealand with three distinctive powertrains:
The Alfa Romeo Stelvio 2.0 litre 148 kW Turbo Petrol

The 148 kW 2.0 litre Turbocharged petrol engine is a 4-cylinder unit built entirely in aluminium with a carbon fibre drive shaft, combined with the automatic eight-speed transmission and Q4 all-wheel drive. In addition to MultiAir electro-hydraulic valve actuation, the distinctive features of this engine include "2-in-1" turbo and 200-bar high-pressure direct injection, which pair up to deliver a particularly lively acceleration response across the rev range in addition to first-class fuel-efficiency – using just 7.0 litres of fuel per 100 km travelled on the combined cycle.
The Stelvio 2.0 itre Turbo Petrol delivers a maximum torque of 330 Nm at just 1,750 rpm and has a top speed of 215 kmh – accelerating from 0 to 100 kmh in 7.2 seconds.
The Alfa Romeo Stelvio Turbo Diesel

The 154 kW 2.2 litre Turbo Diesel offers maximum torque 470 Nm at 1,750 rpm and is the first all-aluminium Diesel amongst the new-generation engines from Alfa Romeo. With four cylinders in-line, it features the latest-generation MultiJet II injection system with Injection Rate Shaping (IRS) and operating pressures of 2,000 bar. The electrically-operated variable geometry turbocharger offers state-of-the-art mechanics and minimises response times and at the same time guarantees benefits in terms of efficiency.
The most sophisticated driving satisfaction and comfort levels are also guaranteed by the use of a balancing countershaft – an innovation for this market, the 2.2L Turbo Diesel is equipped with a turbocharger speed sensor. The resulting performance is outstanding: with the automatic eight-speed transmission and Q4 all-wheel-drive, the Stelvio 2.2 litre Turbo Diesel reaches a top speed of 215 kmh and accelerates from 0 to 100 kmh in just 6.6 seconds, while consuming just 4.8 litres of fuel per 100km travelled on the combined cycle.
The 206 kW Alfa Romeo Stelvio Ti

The Stelvio Ti 2.0 litre Turbo Petrol ups the performance ante. In this configuration the Stelvio delivers maximum power of 206 kW and maximum torque of 400 Nm at just 1,750 rpm.
The result is an impressive top speed of 230 kmh and acceleration from 0 to 100 kmh in just 5.7 seconds, uniting best in class performance together with best in class combined cycle fuel consumption and CO2 emissions.
The Stelvio Ti is fitted as standard with Frequency Selective Dampers (FSD) by renowned suspension specialists KONI®. A hydraulic damping solution, road inputs allow the shock absorber to change the level of damping via a frequency sensitive valve incorporated into the damper funit. This system further enhances the balance of sporting performance and ride comfort.
Also available as an option for the Stelvio Ti is Alfa Active Suspension (AAS). AAS is semi-active system that can electronically control the damping characteristics of the vehicle suspension. This system delivers the highest possible comfort and road holding, based on real time analysis of driving dynamics and road surface conditions.
The AAS is a semi-active system that can change the viscous damping coefficient of the shock absorber. A solenoid valve modifies the hydraulic flow inside the shock absorber, changing the damping characteristics of the suspension setup.
The solenoids are wired to a control unit which sends commands depending on the control algorithm. The objective is to control both body motion and hub vibrations in case of uneven roads, in order to improve comfort and road holding.
A key differentiator for the Stelvio is the rear wheel drive biased power delivery. This system is further enhanced in the Stelvio Ti through the addition of a mechanical limited slip differential (LSD) for the rear driveline.
The most important aspect of an LSD is that while it allows some freedom between the drive wheels, it also limits the power being sent to just one wheel, mitigating wheelspin and allowing for more traction providing enhanced power delivery, performance and improved safety.
These new-generation engines embody the peak of Alfa Romeo's technology and are built in Italy at the Termoli (petrol) and Pratola Serra (Diesel) plants, in areas assigned only to Alfa Romeo engines, with state-of-the-art processes and methods that put them at the top of their class in terms of performance and fuel economy.
Style and Comfort
The exterior of the Stelvio is characterised by an appealing style that expresses the perfect balance of heritage, speed and good looks. The overall effect is completed by striking alloy wheels, Bi-Xenon headlights, chrome-plated window frames and courtesy lights on the door handles. To underline its beautiful lines, customers can choose from 11 striking body colours and a selection of exemplary designed alloy wheels, which highlight its sleek silhouette.
The same elegantly sporty touch continues inside the sleek and generously proportioned passenger compartment, with the cockpit crafted around the driver with a diagonal tunnel and smart curved dashboard.
A contoured leather-wrapped steering wheel with integrated start button and beautifully crafted aluminium shift paddles are standard, defining the brand's competitive heritage.
Further sophistication is presented with electrically adjustable full grain leather seats, while an 8.8'' high-resolution display with the next-generation 3D navigation system developed in partnership with Magneti Marelli puts key controls within easy eyesight. The Information and Entertainment system enables real-time management of the environment and the vehicle's performance, as well as access to the DAB radio and Bluetooth® streaming audio.
The Alfa Romeo Stelvio: Two Trim Levels plus exclusive option packages.

The Alfa Romeo Stelvio is an outstandingly well-equipped car, be it in terms of safety, confidence, performance or style.
The standard equipment package fitted to the Stelvio with the 148 kW Turbo Petrol and 154 kW Turbo Diesel engine includes amongst their comprehensive standard equipment lists:
19-Inch 10-Spoke Alloy Wheels
7-Inch Colour Instrument Cluster
8.8-Inch Colour Infotainment Display with 3D Navigation
8-Speaker Sound System
Alfa DNA Drive Mode System
6 Airbags
Autonomous Emergency Braking with Pedestrian Detection
Blind Spot Monitoring
Cruise Control
Dual Zone Climate Control
Electric Tailgate
Front & Rear Parking Sensors
Rear Back-Up Camera with Dynamic Gridlines
Hill Descent Control
Lane Departure Warning
Leather Upholstered Seats
Front Seats with Electrical Adjustment
Leather Steering Wheel
Passive Entry
Rear View Mirror Auto dimming
35W Bi-Xenon Headlamps
Tyre Pressure Monitoring System
Customers of the 148 kW Turbo Petrol and 154 kW Turbo Diesel versions of the Stelvio may add Veloce – the Italian for 'speed' – which is a package of equipment which further refines and enhances the Stelvio's sporting edge by adding the following equipment:
19" Sport Alloy Wheels
Aluminium Interior Trim
Aluminium Metal Sports Pedals
Black Painted Roof Rails
Frequency Selective Damping by KONI®
Heated Front Seats
Heated Steering Wheel
Power Bolster
Red Painted Brake Calipers
Sport Front Seats
Sport Steering Wheel
The range-topping version of the Stelvio wears another legendary Alfa Romeo badge, Ti, which stands for Tourismo International and is worn by Alfa Romeo equipped at all levels for the grandest of grand tours of Europe, not to mention New Zealand.
As well the 206 kW engine and a host of engineering and technical refinements, in terms of equipment the Alfa Romeo Stelvio Ti gains:
20-Inch Sport Alloy Wheels
Sports Front Seats
Heated Front Seats
Heated Steering Wheel
Privacy Glass on Second Row and Tailgate
Rear Limited Slip Differential
Frequency Selective Damping by KONI®
Red Brake Calipers
Aluminium Sports Pedals
Adaptive Cruise Control
10-Speaker Sound System
The Alfa Romeo Stelvio is also available in a unique colour, Misano Blue, named after the home of one of Italy classic and historic race tracks, Misano World Circuit Marco Simoncelli, and blue as it close the Adriatic Sea at Rimini.
5-Star Safety
The Stelvio is one of the safest vehicles in its segment, having achieved a 5 Star ANCAP safety rating. This was achieved with a 97% score for protection of adult occupants.
The new Alfa Romeo Stelvio Ti offers innovative safety and security features and leverages advanced driver-assist features, including:
Full-speed Forward Collision Warning – Plus: Provides autonomous braking and, under certain circumstances, slows or brings the vehicle to a full stop when frontal collision appears imminent
Adaptive Cruise Control – Plus with Full Stop: Helps maintain distance from the vehicle ahead and, under certain traffic conditions, the system can bring the Stelvio to a full stop without driver intervention
Lane Departure Warning: Alerts the driver of inadvertent lane departure
To help rear visibility both on the road and in parking situations, Blind-spot Monitoring, Rear Cross Path detection and front- and rear-park assist sensors are available. In addition, the Alfa Romeo Stelvio features advanced multistage driver and front-passenger air bags; driver and front passenger seat-mounted side air bags; front and rear side curtain air bags; and driver and front passenger inflatable knee air bags.
It's all in the name – the Stelvio Pass
Nestled in the Italian Alps, the Stelvio Pass is the highest mountain pass in Italy (and the second highest in Europe), and the 20 kilometre road that crosses it boasts over 75 hairpin bends, breath-taking views and a dizzyingly quick rise in altitude, all the way up to 2,743 metres. Over the years, champions of cycling and motorsports have done battle here, making the route a fully-fledged sporting legend. To enjoy it as it is meant to be enjoyed and squeeze every last drop of pleasure out of this unique experience – by oneself or in the company of friends and family – there is only one SUV capable of offering an unrivalled combination of driving pleasure, Italian styling and versatility: The Alfa Romeo Stelvio.

Back to News Page